Lama Tsering Wangdu Rinpoche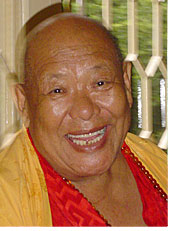 Lama Tsering Wangdu Rinpoche was born in the village of Langkor in West Dingri, Tibet, near the Mt. Everest region, in 1936. He began studying with his guru, Napdra Rinpoche, at age 8.

When Rinpoche was in his early twenties, Napdra Rinpche sent him on retreat to 100 cremation grounds, where he had many profound experiences. Upon conclusion of the retreat, his teacher acknowledged his accomplishment in the practice and sent him on pilgrimage to Nepal, where he arrived in 1958. Rinpoche eventually made his way to the Kathmandu Valley, where he settled in the Tibetan refugee camp in Jawalakehl. He lived for many years among the refugees, and became one of the few pujaris (ritual practitioners) accessible to both the Tibetan refugee population as well as the local Nepalese community. He is well-known in Kathmandu for his powers as a healer.

In addition to studying with Napdra Rinpoche, Rinpoche has received teachings and transmissions from many extraordinary lamas, including His Holiness the XIVth Dalai Lama, His Holiness Dudjom Rinpoche, His Eminence Surkhang Rinpoche, His Eminence Urgyen Tulku, and His Eminence Chatral Rinpoche.

Swami Chetanananda met Rinpoche during a trip to Nepal in 1997, and they both describe their first encounter as the meeting of two currents. They immediately recognized the authenticity of the other's spiritual work and the complementary nature of their practices. Since then, they have spent extensive time together, sharing knowledge and experiences.

In August 1999, Rinpoche made his first trip to the United States, travelling to Bloomington, Indiana to attend the Kalachakra initiation and spending several months in Portland, Oregon. He has spent several months each year in Portland and has visited Los Angeles and New York City. During his visits, he has practiced with Nityananda Institute students, given teachings and initiations, and worked on translations of texts from Padampa Sangye, Machig Labdron and from the Longchen Nyingthig tradition.

Rinpoche is a master of the practice of Chöd. Chöd is an ancient tantric practice that teaches about the essence of sacrifice. It is traditionally performed in cremation grounds and other frightening places where emotional energy is intensified. Using a drum, bell and thighbone trumpet, the Chöd practitioner summons all harmful spirits and offers them a visualized feast consisting of the practitioner's own body. Through Chöd, a practitioner learns to cut through attachment to appearances and come to understand the underlying unity of all things. In the hands of a practitioner such as Lama Wangdu, Chöd is also a powerful ritual for physical and mental healing and pacifying environmental disturbances. Rinpoche is the last person of his lineage to have completed the traditional training.

In March 2003, Rinpoche attended teachings by His Holiness the XIV Dalai Lama in Dharamsala, India. During that visit, His Holiness told him that the Zhi-je teachings of Padampa Sangye, including practices for the pacification of suffering, were especially precious and relevant to contemporary conditions. His Holiness asked Rinpoche to establish a monastery in Kathmandu to continue these teachings in Nepal.
Sudarshan Suwal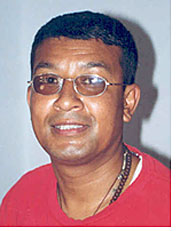 Sudarshan Suwal comes from a family of artists. He began studying painting at age 12, receiving most of his training from his grandfather, a master of Newari Buddhist style of classical painting. His grandfather was a tantric practitioner, so Sudarshan's education included instruction in meditation, mantra and visualization, as well as drawing, making pigments, and painting. He began by painting simple figures, like the Buddha, Ganesh and Saraswati, and eventually progressed to more complex subjects.
.
Classical paintings in the Newari tradition are called paubha, although they are more commonly known by their Tibetan name, thangkas. For centuries, thangkas were painted using natural pigments made from vegetable and mineral sources. With the recent popularity of chemical pigments, the classical tradition is in danger, as there are only a handful of artists painting today who use the classical techniques.

For many generations, Sudarshan's family has carefully guarded the techniques for making mineral pigments: which minerals to use, how to select them, and how to prepare them for painting. That knowledge was considered sacred, to be handed down only within the family line. Only recently has Sudarshan begun to share the technique with outsiders. He has started teaching in the hope that sharing the knowledge will help to preserve the tradition. He is giving instruction only to students who are spiritual practitioners, as he believes that devotion to the dharma is essential for a thangka painter.

Sudarshan is recognized as one of the finest traditional painters in Nepal. He has won prizes in national competitions, and his work has been exhibited at solo shows in Nepal and in Denmark. In 2001, he was invited to teach at Sechen Monastery in Bhutan. He has worked on wall paintings in the Vasundhara Temple at Swayambhu. He also worked on decorative wall paintings for the set of Little Buddha.

Sudarshan was born in 1963 and grew up in the heart of Kathmandu, not far from Durbar Square. He learned a lot of his English from the hippies who visited Freak Street in the 1960's and 70's. He now lives and works in Patan.

Sudarshan's paintings demonstrate the beauty of natural pigments. The colors in his work are vibrant, with a freshness and intensity that chemical pigments cannot reproduce. Sudarshan has painted over 550 thangkas so far, including a 12 foot by 8 foot mandala of the sun god, Surya, that took up the entire floor space in his small studio. He has done work for the commercial market as well as commissions for private collectors, including Nityananda Institute Nepal. His spectacular painting of Siddhi Lakshmi hangs in the meditation room in Nityananda Institute's Portland ashram, and a number of his other works are displayed at the Nityananda Institute Nepal center.

More information about Sudarshan Suwal is available at the Natural Collection Traders site.
Ravindra Jyapoo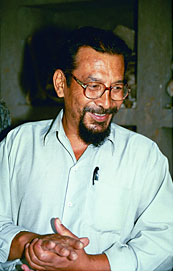 Ravindra Jyapoo is a sculptor and a master bronze caster and, in Nepal, a rare person. Ravindra comes from a family of farmers and is in the first generation of his family to become an artist. Ravindra pursued a difficult path, because his parents were opposed to his chosen career and because he was not accepted into the Sakya (or artist) caste to study.

Left to learn on his own, Ravindra worked diligently for years and completed basic sculpture studies at a lower level art school in Kathmandu—the only training available at the time. After completing his schooling, he worked first with a private firm in Patan as a molder of traditional pieces for commercial sale, and then for the National Museum, learning about reproductions and conservation of existing works.

None of Ravindra's training was in portraiture, however. For that, he was entirely on his own. One of his early efforts was a sculpture he did of a friend when he was 18; the result was a remarkable likeness.

Ravindra started his own workshop in his home in 1984. For many years, the tiny three room building housed his family of seven children and his studio. Over the years, the building has been expanded in all directions to accommodate the growth in demand for Ravindra's work.

Ravindra's first commissioned work was a bust of the late King Mahendra. He has worked on sculptures of prominent citizens of Nepal and on more traditional religious subjects. One of his favorite pieces is a bust of Sir Edmund Hillary that was installed in a school in Nepal's Solukhumbu region. In the photos of the piece, Hillary's energy is so alive it crackles on the page.

Ravindra began to receive recognition for his work. He has won awards in national exhibitions. He was among the artists in the Valley who were asked to participate in the set design for the movie Little Buddha, which was filmed in Kathmandu. Today he is a well-respected artist and considered the best in portraiture in Nepal. Among his current projects is a statue of Swami Rudrananda (Rudi) for Nityananda Institute's Portland center.

Ravindra is eager to share his knowledge with other aspiring sculptors. His house at the base of the Swayambunath stupa is, on most days, full of students, both foreign and local, who come for the joy of working with him. Ravindra has been teaching art at the Lalitkala campus of Tribhuvan University, where he is a senior professor. He is a member of the Royal Nepal Academy, an organization devoted to the preservation and promotion of Nepali art and culture.